Indian Strick Against Supermarketers
Interesting to notice that Indian people also fear for their job when global predators show up. We've been thru this....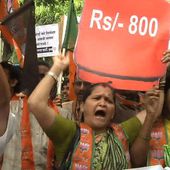 India strike over retail reforms
Opposition parties and trade unions in India have staged a day-long strike over plans to open the country's retail sector to global supermarket chains. Calcutta and Bangalore were virtually shut ...