Beyond technology, the most interesting thing here is the choice of the good to be printed out. Why a Gun ? Why not a hand-held water filtering system ?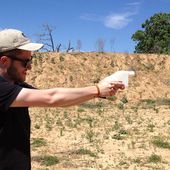 World's first 3D-printer gun fired
The world's first gun made with 3D printer technology has been successfully fired in the US. The controversial group which created the firearm, Defense Distributed, plans to make the blueprints ...