Reason to Hope #2 : Never Ending Change
Unbelievable and magical changes can happen unexpectedly. In fact change happen every second, however, sometimes, when proper conditions collide magic can happen.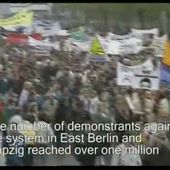 Moments in History - The Fall of the Berlin Wall
Here is a short 6 minutes documentary that shows the events that lead to the fall of the Berlin Wall and beyond. I recently this video material recently and thought that some of it is spectacular ...