Path To Freedom From Your Prison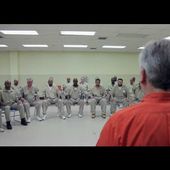 In the harsh environment of a Rhode Island men's prison, a group of fifty inmates are transforming their lives through the practice of meditation. Path of Freedom follows former inmate Fleet Maull ...
Miracle in Prison - Vipassana [EN - FR subtitles]
sorry for quality___]] Merveilleux film documentaire, vers l'évolution. C'est l'histoire d'une femme au caractère trempé, Kiran Bedi, l'inspectrice générale de la prison de New Delhi, qui déc...